Custom Precision Metal Stamping
Precision metal stamping is a quick and cost-effective solution for manufacturing large quantities of multifaceted products, especially when you need them to be strong, durable, precise, wear resistant or good conductors.
Our metal stamping capabilities incorporate the use of automated presses and stamping dies to fabricate your desired part from the various type of metal alloys we offer. We use several production methods, including progressive die stamping and deep drawing techniques in our manufacturing processes, and at GBSA we have the understanding to work with a variety of metals including:
Stainless steel
Nickel alloys
Carbon steel
Bronze
Brass
Aluminum
Copper
There are multiple processes that can be used to achieve the final product. GBSA offers the following metal stamping services:
Punching
Bending
Blanking
Embossing
Deep drawing
CNC machining
Value-added assembly services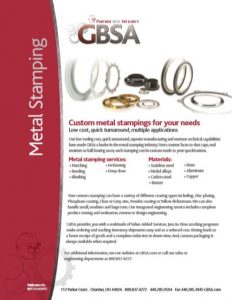 Precision Metal Stamping Design Considerations
Our integrated engineering services include design, reverse engineering, and complete product testing and evaluation.
As soon as you contact us, our engineers will begin working with you to understand what you're trying to achieve in order to recommend the best materials, available coating options and production methods specific to your application.
Download our metal stamping catalog for more details.
Custom Metal Stamping Capabilities
Our competitive tooling costs, quick turnaround time and superior technical capabilities make GBSA one of the leading metal stamping manufacturers. From counter faces to dust caps, seal retainers to ball bearings, we can make each stamping custom to your specifications using any number of the following capabilities:
Long or short runs
Customized production runs
Design engineered services
Competitive tooling
Prototype design services and tooling
In-house die maintenance
Zinc Plating
Heat-Treating
Phosphate Coating
Clear or Grey Zinc Coating
Yellow Dichromate Coating
Powder Coating
Stress Relieving
Rubber Bonding to Metal
We Will Meet Your Metal Stamping Requirements & More
GBSA provides you with a multitude of value added services. Here are just a few examples of ways in which we like to deliver best-in-class service:
Just-in-Time stocking programs make ordering and tracking inventory shipments easy and cost-effective
Kitting leads to faster receipt of goods and reduction in production lead times
Custom packaging is available when required
Metal Stamping Applications and Industries Served
Our engineers have worked with a variety of applications and industries, designing custom metal stampings to meet unique needs. Examples include:
Industries
Agriculture
Electric Motor
Truck Automotive
Rail Transport
Appliance
Oil and Gas
Medical
Recreational
Applications
Industrial machining
Industrial motors and pumps
Mounted ball tapered and spherical bearings
Recreational vehicles and trailers
Disc hubs
Speak with a Sales or Design Engineer Today
To better understand our metal stamping capabilities for your unique application, please complete our contact form, telling us a little about your application and your design needs. Be sure to let us know whether you already have a drawing of your part.
If you need assistance in the design, or would like to speak with a sales engineer regarding a quote, please call 800-837-4272.