Oil Seal Types and Designs
Known for their long-lasting ability to prevent liquids and lubricants from leaking around rotary shafts and housings, our oil seals deliver superior performance and outstanding wear.
Inch and Metric Oil Seal Types
Single Lip Seals
Available in a range of sizes, single lip seals are suitable for most applications.
Dual Lip Seals
Dual lip seals are typically used for difficult sealing applications requiring the separation of two fluids.
The chart below shows different design considerations for single and dual lip seals. To view our cross-reference chart, download the Oil Seals Brochure.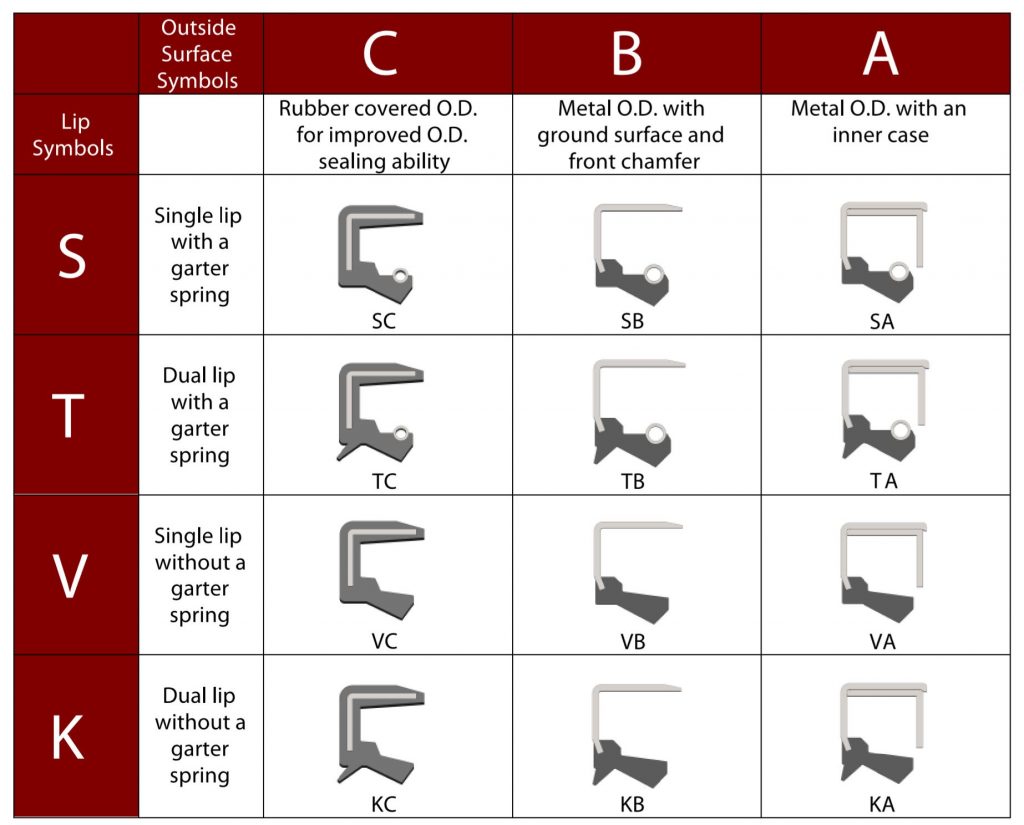 Oil Seal Designs
GBSA offers a variety of designs and sizes for the three basic components of a rotary oil shaft seal: sealing lip, spring and case. Color can be provided to distinguish each of these components from one another:
Sealing Lip Materials
The sealing lip is designed to wrap around the rotary shaft. When selecting lip material, it is important to consider the environment in which the seal will operate. Factors to consider include temperature, pressure, shaft speed and the medium being sealed.
The table and figures below provide general information to help select the compound according to physical property.
Compound

Nitriles
(Code N)

Poly Acrylates
(Code P)

Silicone
(Code S)

Fluoro Rubber
Viton
(Code V)

Temperature Range

-40° to 248°F

-22° to 302°F

-58° to 356°F

-22° to 392°F

Abrasion Resistance

2

3

4

2

Compression Set

2

3

2

2

Cracking Resistance

3

3

1

2

Cut Growth Resistance

2

2

4

4

Flex Cracking Resistance

3

3

2

2

Impact Strength

2

4

3

3

Low Temperature Resistance

2

4

1

2

Oxidation Resistance

2

1

1

1

Sun Light Resistance

3

1

1

1

Tear Resistance

2

4

4

3

Weathering resistance

2

1

1

1
Note: 1 = Excellent 2 = Good 3 = Fair 4 = Poor
Spring
GBSA offers spring or non-spring loaded lips.
Cases
GBSA offers metal or rubber covered cases; both designed to prepare the oil shaft seal for a stable coupling with the housing.
View more design considerations for shafts and bores.
GBSA also offers specialty designs for severe conditions. For additional information on inch or metric oil seal types or design considerations, or to discuss your specialty design, call our engineering department at 800-837-4272.